April 29, 2005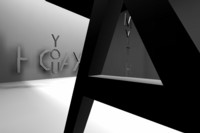 This weekend and next (April 30 & May 1 // May 7 & 8) we'll be having two different exhibitions of literary virtual reality at Brown. The exhibitions will employ a room-sized immersive stereo display (Brown's Cave) and a spatialized sound system (controlled by Max/MSP) to present 10 projects created by writers, musicians, visual artists, and computer scientists. Because we're having small shows (6 people) spread out at 45 minute increments over the course of the day (11am to 5pm), reservations are required. Reservations are made by calling Brown's David Winton Bell Gallery at 401-863-2932. This show, "Works from the Cave II," is the sequel to our Cave exhibition for the 2003 Boston Cyberarts Festival.
The complete run down is below.
---
The David Winton Bell Gallery, meme@Brown, and the Program in Literary Arts, Brown University, will present the exhibition Works from the Cave II on April 30 and May 1, 7, and 8, 2005, in Brown University's virtual reality "Cave," located in the Center for Computation and Visualization, 180 George St. Powered by a high-performance parallel computer, the Cave is an eight-foot cube with high-resolution stereo graphics projected onto three walls and the floor to create immersive virtual reality. Due to the time-based and interactive nature of the exhibition, advanced reservation are required for the viewings.
Brown's Cave has a unique connection with the literary arts. The "Cave Writing" workshops–initiated in the Brown Cave by novelist and hypertext expert Robert Coover in 2002–represent the first ongoing investigation of the literary potential of immersive virtual reality. The workshops take an interdisciplinary approach, bringing together participants with backgrounds in writing, music, visual art, performance, and computer science.
Works in this year's exhibition were created by graduate and undergraduate students from Brown and RISD, in some cases working collaboratively with an international visiting artist (John Cayley, UK) and a professional computer graphics researcher (Sascha Becker, from Brown's Graphics Lab). Some works invite the viewer to wander through real or imagined three-dimensional spaces–a museum of natural history populated by intimidating figures, the Rockefeller Library transformed into a maze, a Word Museum. Text-based works, such as Torus and Screen, create new reading experiences made possible when text no longer needs to appear on a surface (but can hang as individual letters in space, or break into words that swarm around the reader). A third group of pieces uses the Cave to create new types of performance. In one of these, Cave Music, viewers compose music by interacting with (i.e. grasping, bouncing, moving) colored balls that float through an abstract environment. In another, the Cave becomes a virtual set for a digital interpretation of Japanese Noh theater.
Featured works will include the premiers of Torus: Work in Progress by John Cayley and Dmitri Lemmerman and Word Museum by William Gillespie and David Dao, as well as selections from the 2005 Cave Writing workshop led by Noah Wardrip-Fruin and Shawn Greenlee.
Two programs will be presented on subsequent weekends.
Program I ­- April 30, May 1, 11 a.m. to 5 p.m.
– Perpetual Incunabula by Brian Lee, Jonathan Cho, Damon Baker, Alexandra Sears, and Kevin Scott
– LifeSpaces by David Dao and Jed Bickman
– Torus: Work in Progress by John Cayley and Dmitri Lemmerman
– Nodes of Imagination by Patrizia Pilosi, Nicholas Musurca, and Joseph Grimm
– Cave Music by Joseph Grimm, Nicholas Musurca, and Patrizia Pilosi
Program II — May 7 & 8, 11 a.m. to 5 p.m.
– Mugen Noh: A Virtual Opera by Samantha Gorman, Raphael Lee, Mark Skwarek, and Nicholas Musurca
– Screen by Noah Wardrip-Fruin, Sascha Becker, Josh Carroll, Robert Coover, Shawn Greenlee, and Andrew McClain
– Word Museum by William Gillespie and David Dao
– Natural History by Nicholas Musurca
– The Door by Paul Wallace, Alexandra Sears, and Damon Baker
Reservations are required. Please contact the Bell Gallery at (401) 863-2932 for reservations or further information.