December 11, 2005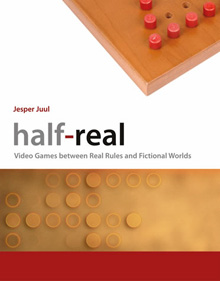 On the plane ride back from DAC 2005 (the second day of which was certainly one of my favorite conference days ever — the papers were great) I read Jesper Juul's brand new book Half-Real: Video Games between Real Rules and Fictional Worlds (GTxA post, Jesper's post, book site).
I'm too caught up with my own manuscripts at the moment to write a full review, but suffice it to say that I heartily recommend it. I particularly think it should be used for teaching immediately. It's a short (~200 pages), well informed, and carefully thought out book. For those already involved in the field it provides good grist: strong arguments and an appropriate framework. For new folks it builds things up from the beginning nicely, showing the current state of the field by demonstration and description, while providing the pointers for further research that one would want.
I anticipate that the book will face some criticism for the fact that it doesn't at any point carefully examine a particular game at length. It doesn't provide a model for us, or our students, as we seek to write about particular games (or even classes of games) as cultural objects. But this is not among its ambitions — and I, for one, am quite glad that Half-Real does what it sets out to do, does it well, and does it succinctly. Rather than seeing Half-Real as lacking, I see it as an invitation. It provides a thoughtful, useful overview of the field, describing the "classic" game model, the functions of rules, the contributions of fictions, and the interconnections between these. Someone else can now write the companion volume that considers particular games within this framework.