October 13, 2007
One of our goals for the Grand Text Auto show at the Beall Center for Art and Technology is to create connections between the blog and the gallery. This Guest Book is one of them, which Ivan Rosero and Noah put together.
A Hewlett Packard DraftMaster II sits in the Beall gallery, right now.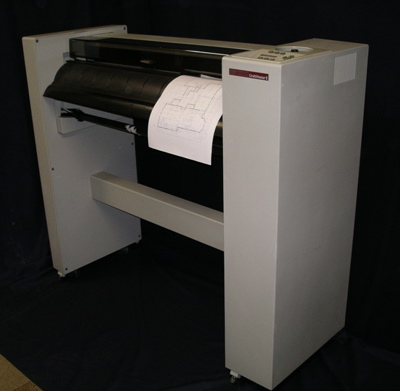 Through precise paper control (front and back) and print head control (side to side) this printer uses a pen to write on paper. (A short video of a similar printer is available at the HP Museum.)
Next to the printer is a computer. Visitor comments left on it appear in the comments thread of this post. They are also written out — by pen, if not by hand — by the plotter in the gallery. Similarly, comments left on this page over the Internet (traditional blog comments) are also written out by the DraftMaster in the gallery.
As each comment appears, the Beall docents cut off the new length of paper from the DraftMaster — then tack it to the wall. Next time Noah is up at the Beall he'll take a picture of that version of our (unbound) guest book and post it to GTxA.